2 books about Ghanaian woman
I had a hard time focusing on anything this week, so it's a testament to how good these two books are that they managed to hold my attention — coincidentally, they're both about Ghanaian women. One is set in the U.S., the other in Ghana; they're wildly different in tone but equally as consuming.
Transcendent Kingdom - Yaa Gyasi
First, if you haven't read Homegoing, rectify that immediately — it's gorgeous and expansive and one of the rare books that's well-reviewed and still not overhyped in the slightest. Transcendent Kingdom is much more intimate and interior; it tells the story of Gifty, a scientist studying neurology at Stanford. Gifty, an American-born daughter of Ghanaian immigrants, grew up in Alabama attending evangelical church and spending time with her brother, Nana, who later dies of an opioid overdose.
The story goes back and forth between her childhood and her present-day, in which her mother comes to stay with her during a dark depressive episode. Gifty ruminates on how she grew up, her faith, her brother, her experience as a daughter of immigrants and a Black woman, science, the research she does focusing on addiction and reward-seeking behavior, and why she feels so isolated. It's beautiful writing that is both sad and hopeful.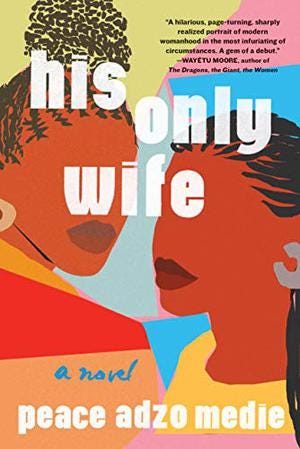 His Only Wife - Peace Adzo Medie
A "Cinderella story" of sorts — Afi, a woman from a small poor village in Ghana, gets married to Elikem, a wealthy businessman who doesn't even show up at their wedding because he's too busy at work. The marriage was arranged by Eli's mom, the wealthy Aunty of the Ganyos family, who hates Eli's Liberian mistress and hopes Afi can make Eli reprioritize accordingly. Afi moves to Accra to one of Eli's apartments — where he rarely shows up at all — and tries to make a life for herself, in her marriage, and while satisfying all the relevant members of her and Eli's family.
Afi goes from shy, obedient, and afraid to confident and furious over the course of the book; she rules. (Her family, on the other hand, made me lose my mind.) A funny and engaging dive into a culture I hadn't spent much literary-time in.
---
I read some other books this week, too, but they were mostly only OK — you can get the full list here. Let me know what you're in the mood for.
Did this get forwarded to you? Sign up for weekly emails.