2 books I could actually finish this week
Like so many of us, my brain is fried crisp right now. My attention span is shot to hell and I can barely focus. So while I've picked up and put down a dozen books in the past few weeks, I only finished a few. Two that you might like…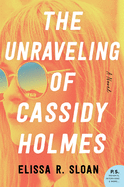 The Unraveling of Cassidy Holmes - Elissa R. Sloan
Cassidy was one of four women in the biggest girl groups on the planet — when the story opens, it's 15 years past their peak and Cassidy has just been found dead in her own home. The book goes back and forth in time with each woman (Rose, Merry, Yumi and Cassidy herself) narrating their rise, fall, and then the week after Cassidy's death. Warning that the book (unsurprisingly) includes suicide, disordered eating, sexual assault, drug abuse, and more.
If you liked Daisy Jones and the Six by Taylor Jenkins Reid, or you loved girl groups of the early 2000s, or you like going behind-the-scenes into celebrity culture, you'll like this.
Clara, a Connecticut wealthy socialite, escapes to LA to follow her childhood crush/unrequited love. He quickly ditches her, leaving her living with Josh Darling, a charming stranger who turns out to be one of the hottest porn stars in the business. Their lives get intertwined and their love/lust blossoms. A romance that's feminist, pro-sex worker, has a hint of politics in it, and is lovingly tender and romantic? Sign me up. Warning: This is the hottest well-written romance I've ever read. Like, 🌶️ 🌶️ 🌶️ 🌶️ — explicit, steamy, smouldering, dangerously don't-read-it-in-public hot.
---
My full reading list is, as always, in the spreadsheet. Tell me what you're reading!
Get this forwarded to you? Subscribe!